Super Ate in Wonderland
-----------------------------------------------------------------------------------------------------
--------------------------------------------------------------------------------
------------------------------------------------------

Time for a cute and spooky adventure!

Our little hero, Ate, is going on an adventure to see his sweetheart, Niko, who is at the top of a mountain.
But… There are spooky and crazy bosses along the way!
Are you ready to go through a dark forest, mysterious lagoon, and then climb up the rocky hills to find a way to the goal?
Beat the last boss and enjoy the heartwarming ending.
How to play: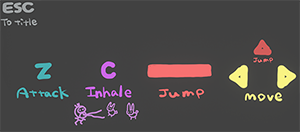 inhale special items to enhance the player's abilities
About the game:
3 levels and 3 bosses
easy controls
hand-drawn art
original BGM
Ate Team:
Main coding: Tsunehiko Shimazu 
Boss bird Coding: Haru
Music: Sasakawa
Art and effects: Slimomo
** The game was originally created for a 1 week game jam.

------------------------------------------------------
--------------------------------------------------------------------------------

-----------------------------------------------------------------------------------------------------