Pam's Room
Pam's House: An escape game is on Google play now. It's Free.
Now you can explore in Pam's House!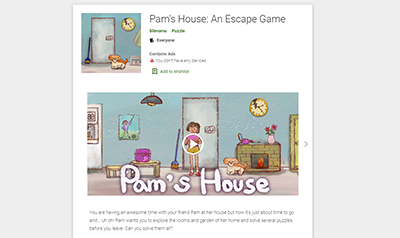 ------------------------------
Just click key items in the environment to store them, and then click collected items to use them in the right place.

My first game on itch.io!
Download
Click download now to get access to the following files:
Comments
Log in with itch.io to leave a comment.
lovely game! - thank you :)
Couldn't get game to load in browser, and there was no exe after downloading!???
I found a bug. I you solve the dog food puzzle too early, it will lock the letters but not give you the food.
it was fun one thing is that the bunny got off of the box an i didnt even give them the carrot , i m guessing it was a bug
Thank you for your feedback. I'll look into it later this week!
>>> I was able to fix the bug today.
that was a fun point and click. I hope the next game you make is harder! :)
Nice game! I loved the graphics :) I noticed that you can fill the inventory with scissors if you click more than once on the little star, I don't know if that is a bug or not.
Cool graphics and the game itself! Waiting for more games from you.
Here's my walkthrough:
Hi! Thank you very much for making a walkthrough video. so cool!
My next escape room game will be coming to Google play soon, and to Apple store later on.