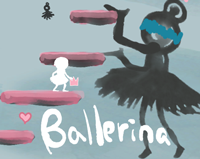 Ballerina
Here's my "1 week jam" game!
---
This is from last month's 1 week jam.
I wanted to create a basic action game like Mario, so I made a player as ballet dancer since the them was "dance".
I've been fixing bugs every now an then. well, it takes time for me I'm still a beginner level.
Files
action_itch4.zip
Play in browser
Jun 21, 2021